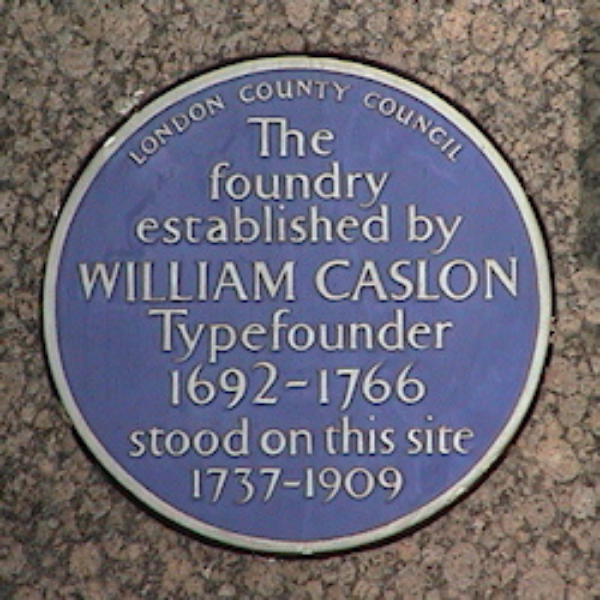 In 1720, William Caslon, an engraver of firearms from the West Midlands, started his career in type design when he created a typeface for the New Testament in Arabic.
Now, 289 years after it was first cast, Caslon remains one of the most popular typefaces of all time.
In 1776, just before the 4th of July, a printer from Philadelphia called John Dunlap famously used Caslon Old Face when he printed the American Declaration of Independence.
Caslon Egyptian Type, which was first cast in 1816 was the first sans-serif printing type to be sold commercially.
The Caslon Typeface saw a revival between 1840–80 as a part of the British Arts and Crafts movement. For many years a common rule of thumb of printers and typesetters was "When in doubt, use Caslon".
During the 1914-18 Great War many of the Caslon Type Casting machines were turned over to producing bullets for the British Army. 
In 1949, a turbine steamer carrying newsprint from Scandinavia was named "TS Caslon".
In 1987, Caslon® Limited purchased the Adana Company bringing the company firmly back into the Letterpress machinery & supplies business once again.
Caslon® Limited spent 282 happy (and sometimes not so happy years) in London's EC1 district occupying premises in Chiswell Street, Aylesbury Street and Bakers Row before making the move in 2002 to its current location in St Albans, Hertfordshire.
Roy Caslon joined the company in 1957 and is the current Chairman. He has also Chaired Picon, the British trade association representing suppliers to the printing industry, from 2005 until 2007.
The company is still a family owned business. Richard Caslon started at the company in 1983 and is the current Managing Director.