The Zip-A3E is a heavy duty, precision programmable cutter/slitter featuring a Windows XP touch screen control. The Zip-A3E combines unmatched productivity, layout flexibility, accuracy and easy of operation with a wide selection of precision rotary tooling unmatched by any other programmable cutter/slitter.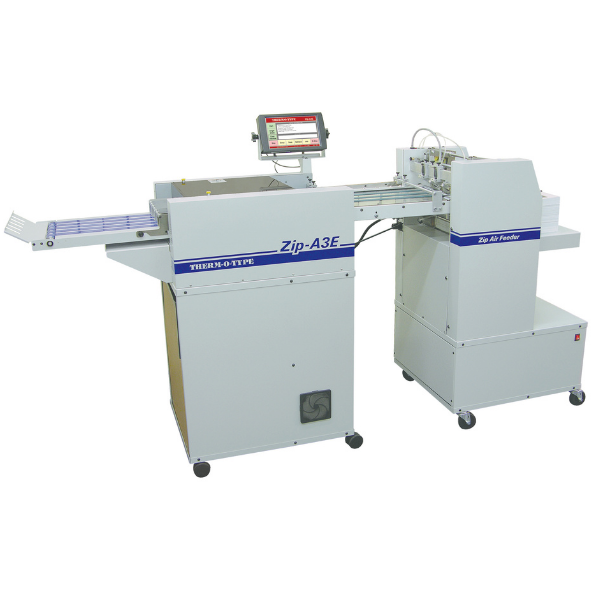 The touch screen computer control allows a high degree of automation with fast set up, job format storage and retrieval. All set up and operational screens are easy to view and use with ample space and clarity being provided by the 10.2″ full colour display.
Sheets can be registered using either the lead edge of the sheet or a registration mark. Switching between registration modes is a simple selection on the touch screen computer.
The Zip-A3E can handle coated and un-coated, laminated and UV coated sheets using the standard friction feeder or optional air feeder.
Programming a new job format is quick and easy. The operator simply selects the Set Up screen and enters five pieces of information.
These are lead edge or registration mark mode, the number of pieces being cut from each sheet, the finished size of pieces being cut from each sheet, the lead edge trim off and, if a crosscut gutter is required, the size of the crosscut gutter. Programming takes less than a minute and up to 500 programs can be stored for easy recall at any time.
Guillotine crosscutting can be programmed for a single "scissor" or a variable width "gutter" cut. A minimum product cut length of 40mm makes the Zip-A3E ideal for tickets and other small format products.
Competitive models require significantly larger minimum cut off lengths limiting the ability to complete special products efficiently or, in some cases, to run the products at all.