The Zip-CSCL is a programmable cutter/slitter/creaser which has been designed for the maximum product flexibility, ease of operation, reliability, accuracy and productivity. The standard Zip-CSCL can run stocks up to 375mm wide by 508mm long. Provisions have been made to handle longer sheets if required by the customer.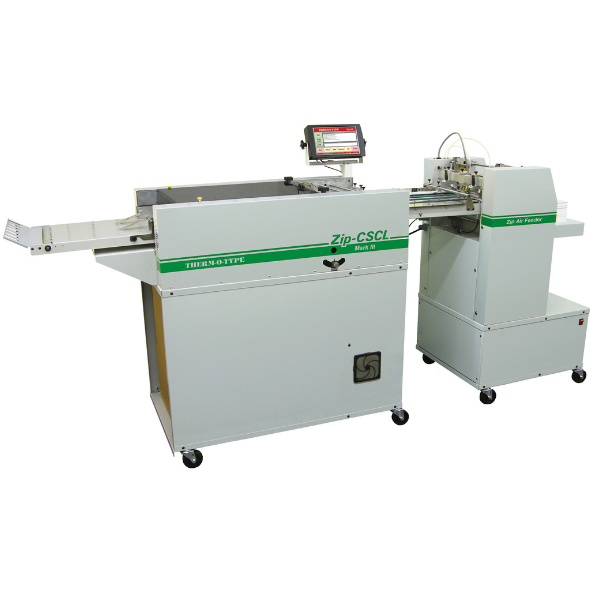 Using the Zip-CSCL, customers can independently program cross cut and cross score/perforation positions down the length of the sheet. After cross cutting and cross score/perforating, sheets are conveyed through a rotary cassette. 
Rotary gutter cut slitting, scoring, perforating and semi-slit tools are available and cassettes can be changed in less than a minute, without tools. The standard duty T1 tooling station produces a single operation of either cross scoring, perforating, slitting, hole punching or die cutting.
However, when purchased with the 'T1 Multi Tool' option, two processes can be produced on the T1 station, giving twice the flexibility in one pass!
The Zip-CSCL is ideal for producing a wide range of products, including standard and odd size business cards, various top and side fold over business card formats, post cards, single/tri/accordion fold products, tickets, "T" perforated products and much, much more.
The Zip-CSCL has a "true" suction feeder with full length alignment table and double sheet detect/interrupt. The feeder can support a 340mm high stack of paper, more than double the capacity of competitive models.
Coated and un-coated as well as single and two sided UV coated stocks can be fed with the Zip-CSCL feeder. The full length alignment table, with adjustable side guide, precisely aligns each sheet before it enters into the machine.