The new Zip-TS2L is a heavy duty, programmable cutter/slitter featuring a Windows XP touch screen control and two unique tooling stations that provide cross sheet scoring, perforating, die cutting, hole punching and blind embossing capabilities. The simple touch screen control allows a high degree of automation with fast set up, job program storage and retrieval. The programming is quick, simple and typically takes less than a minute to enter a new job.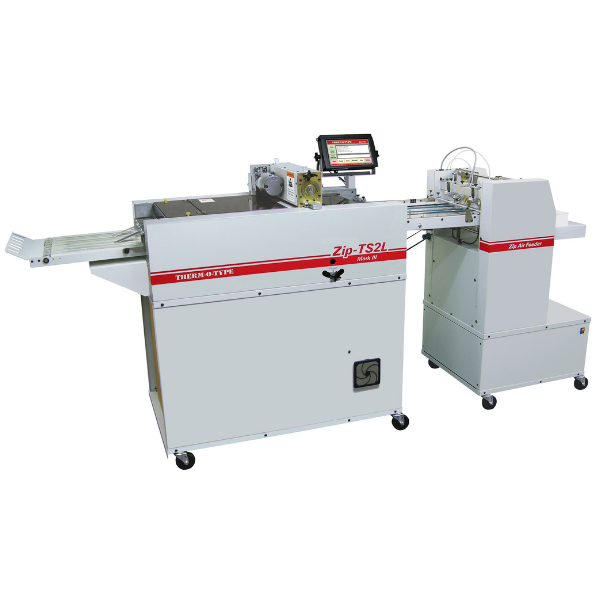 The Zip-TS2L feeder can handle coated and un-coated, laminated and UV coated sheets with ease. In-feed guides are adjustable with a single control to the centreline of the machine.
A second control provides micro side-to-side registration adjustment. Non-marking wheels and rollers are used to feed and convey the stock.
The machine can register from either the lead edge of the sheet or from a printed registration mark at the top of the job, thereby reducing the problems of image drift which are so common with digital printers. 
The cross guillotine assembly can produce straight cuts or a variable size gutter between the individual cards whilst vertically a fixed 3.175mm (1/8") gutter is removed from between each column of cards.
The sides of the sheet are removed by slitting wheels which can be quickly and easily adjusted to any size. For those regular jobs or special set-ups, additional blade cassettes are available. The Zip-TS2L is the only cutter/slitter available with two cross sheet "tooling stations".
The heavy duty T2 tooling station allows cross scoring, perforating, die cutting, hole punching and blind embossing on multiple
products. The standard duty T1 tooling station has been provided primarily for producing one operation of
cross scoring, perforating, slitting and hole punching.
However, when fitted with the 'T1 Multi Tool' option, two processes can be produced on the T1 station, giving 3 processes in one pass!